Change Your Lighting for Every Mood with One Touch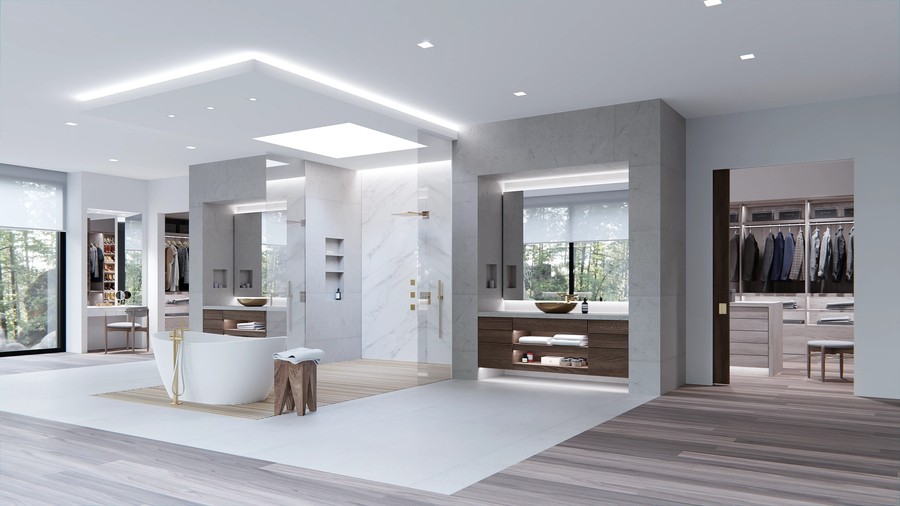 The Personalized Approach to Lutron Lighting
In the late 1950s, a young physicist invented the first solid-state dimmer, enabling people to change the intensity of their home's lighting. That significant event became the foundation of Lutron, a world leader in lighting control. Today, you find Lutron lighting in impressive buildings like the White House, the Guggenheim Museum, and the 52-story New York Times Building.
Not one to sit on their laurels, the company's continued innovations have resulted in about 15,000 products and over 2,700 patents. Then, in 2018, they acquired Ketra and forever transformed how we light our homes in New Buffalo, MI.
SEE ALSO: Manage Daylight and Privacy with Lutron's Elegant Smart Shades
Beautifully Designed
Lutron lighting sets itself apart with beautifully designed fixtures, lamps, and luminaires, as well as Ketra's revolutionary LED lighting and powerful controls. A few solutions include linear accent luminaires that fit in small places to provide stunning light from an unseen source. Recessed downlighting elevates the standard for architectural downlighting, and lamps deliver semi- and omni-directional beam patterns.
Not only do these lights provide exquisite illumination, but they also offer dynamic, full-spectrum LED lighting that provides every color in the visible light spectrum. Use light like an artist uses a palette, changing the color with one touch. With over 16 million shades, the only limit lies in your imagination.
Taking Control of Full-Spectrum Lighting
Lutron lighting is all about personalization. This system allows you to create the perfect lighting for your varying activities, moods, and special moments, and it's controlled with custom-engraved keypads, touchscreens, and your mobile device.
That's one of the reasons it's so important to work with a company that takes the time to understand your lifestyle and possesses extensive knowledge of Lutron lighting and its possibilities. For instance, if you're a family that regularly entertains business associates and friends, we can program a button that transforms your space for each event.
Pressing the 'Formal Entertain' button changes the dining area into the color of golden candlelight and highlights fine artwork in a vibrant glow that brings out its best features. Walls are awash with soft shimmering arctic blue and enchanting moonlight, while under cabinet lighting illuminates the kitchen in pale mint and marigold.
When friends and family come over, tap the 'Entertainment' button, and the lights throughout your home transform to the colors of a tropical sea, from azure to indigo, seafoam green, and cerulean. We can also integrate your audio and video, enabling these same buttons to turn on your favorite playlist for the specific event.
Creating a Healthier Home Environment
These lights also provide natural or human-centric lighting that automatically transforms throughout the day, mirroring the changing color of the sun. Wake to lights the color of dawn, brightening midday, and settling into the warm colors of sunset as darkness falls. This lighting aligns our internal time clocks, promoting energy in the day and relaxation in the evening.
As a leading Lutron and Control4 dealer serving Chicagoland, r:home brings 20 years of experience to the table and a passion for enhancing our clients' daily lives. To learn more about customized Lutron lighting or to schedule a complimentary consultation, contact r:home today.
Comments
No comments made yet. Be the first to submit a comment